Custom Printed Post-it® Products
Custom Printed Post-it® Products
Custom printed Post-it® Notes are not just for everyday office use anymore! Keep your brand in front of your customers and prospects day after day with Custom Printed Post-it® Notes, Custom Printed Pop-up Note Dispensers, and Custom Printed Flag + Writing Tools. These useful office supplies give any brand exposure sheet after sheet, making them one of the most cost effective ways to advertise any business.
Post-it® Notes "stick around" for weeks or months after receipt and use. This keeps any message visible and communicated even after the product is used. They are an interactive product that people reach for time after time. They are passed on to others as a part of their natural use.
Sheet after sheet, day after day, impression after impression, the value of a printed message on a Post-it® Note is clear.
Let Wilmer help you with your branding needs with Custom Printed Post-it® Products.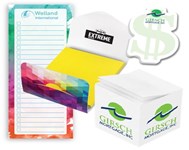 Custom Printed Post-it® Products
Custom Printed Post-it® Products are perfect for website programs, company stores, special promotions, functional purposes, business cards and so much more! View Product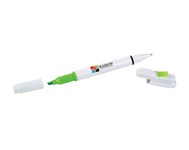 Post-it® Custom Printed Flag + Writing Tools
Write, highlight and tag all in one tool! Showcase any brand with these functional giveaways. Available in custom colors, highlighter or pen with flags or get all three in one tool! View Product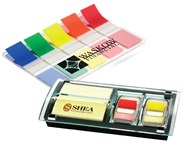 Custom Printed Post-it® Products
Showcase your brand with Post-it® Custom Printed Flag Dispensers and Pop-up Note Dispensers. They coordinate well with other office decor and can be refilled again and again keeping your brand in the forefront of customers minds. View Product